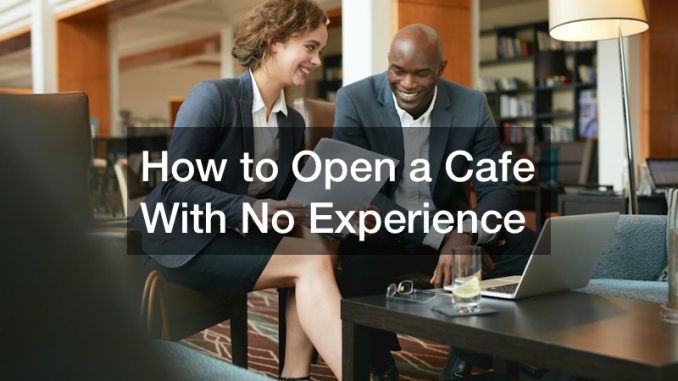 So, you've finally come to the point where you're looking to switch careers, and you know that you've always dreamt of owning your own café but life chose a different route. Today. You're here and have finally been able to switch careers and follow your dream of owning this café. The good news is you can. Today's article is about how to open a café with no experience, and in it, you'll learn so many new things and have many tips to take with you for your venture.
Have a Plan
Before being able to do anything in business, a plan is vital and cannot be a missed step. What is the plan for your business? Think about how your business will function in its day-to-day aspects and how you will incorporate things. Consider what the market is doing, what's trending, and what you can do to be a step ahead and stand out from the competition.
Acquire Funds to Start
You need money to get your business up and going, and with this, you might have to consider taking out a business loan. You might have saved money as capital in your previous career, and that's great, too, because you can then use this fund instead of making additional debt. It would help if you also worked out how much you'll spend on purchasing stock and making treats in the café. You may have to pay rent for a few months in advance to give yourself a head start. Either way, having the capital to start your business is one of the most important things to remember about how to open a café with no experience.
Purchase a Business Sign
First thing first, have you thought of a name for your company? If so, you'll have to include the name in everything. The name must feature at the storefront, of course, so customers and potential customers can see it. With the shop's business sign being one of the important things to consider when looking at how to open a café with no experience, it's time to pick out signage.
A local sign company can help you custom-make your store's name in signage form. The store's name should be visible to everyone and attractive and clear to read. Some people also add lights to the sign so if they operate in the evening, the visibility is still clear. Making custom signage for the store's name will make it unique and memorable. Also, remember that you will need to use this concept throughout the other aspects of your business marketing endeavors.
Invest in a Business Vehicle
You'll need transportation for an array of things, including deliveries if that's what your store will also incorporate. Transport is a vital part of opening a care with no experience. Use the vehicle as a tool to advertise your café and brand wherever it goes by using custom vehicle ad wrappings.
Many companies wrap their vehicles to advertise on the go, and it is a very effective technique for advertising your product. Not only will wrapping your company vehicle provide a layer of protection for the paint, but it will also double as the advertising medium. You will also need your vehicle to collect stock if you have to.
Install a New Door
When you are looking for the right commercial door for your cafe, you want to ensure that you are getting the best product for your money. Opt for a door that is durable, secure, and aesthetically pleasing. The type of door you choose will depend on the style of your cafe and the traffic that enters and exits the space.
A steel door is the most common type of commercial door and is a strong and secure option for your cafe. It is also low maintenance and can provide a modern and professional look. These days, steel doors can also be made to look like wood. Glass doors are often the most ideal because they also provide visually appealing access to potential customers. A sliding door may be a great option for a cafe with limited space, as it allows for easy access for customers without worrying about a swinging door taking up too much room.
You will find many commercial doors available and installers that can help you set it up and get it ready for your café's operations. Investing in a quality commercial door for your cafe, you can ensure that your customers and employees feel safe and secure while enjoying their time in your shop. Your local commercial door installer may also be willing to give you some ideas of the type of door you could use at your shop.
Fix Your Roof
Since the roof forms such an integral part of a building structure, it remains imperative that it is repaired and maintained. You can find roof repair companies in your local area, and they can assess the state of your roof. If you own the building, then repairs to the roof are fully your responsibility. However, if you're renting a space, that would be someone else's responsibility. If you have any issues like leaking or signs that other issues show structural concerns, then this must be reported and dealt with as soon as possible.
Local roofing services might also be able to replace the entire roof should they deem it necessary. Sometimes, damage can go so far that no more extended repairs can save the situation. As another important factor on how to open a café with no experience, you can add the roof to your checklist.
Maintain Your HVAC
As a cafe owner, keeping your HVAC system working properly is important. Regular maintenance helps keep your customers and employees comfortable while saving you money in the long run. A few simple steps can help keep your heating, ventilation, and air conditioning system running smoothly, like changing the air filters regularly. Changing the air filters will help to reduce the buildup of dust, dirt, and other airborne particles that can cause the system to work inefficiently. There are also special liquids used in HVAC, and these liquid levels should be checked during maintenance to ensure that the machine functions properly
You might need AC repair if you notice that the air is no longer feeling okay or it feels stuffy and plain weird to breathe. You would also see more staff and even the customers develop bouts of sneezing, sniffles, and coughing. The air that's coming through the air conditioner is no longer clean and might need repairs or maintenance.
Offer Catering Services
Another important point when considering how to open a café with no experience is starting a catering service. Not only will catering give you the liberty of networking and marketing your service, but it also allows you to make more money per project undertaking. You can offer various catering options to fit the needs of any event, from small family gatherings to large corporate events. You can also offer delivery or setup services, depending on the size of the event. By offering catering services, you can create a new revenue stream for your cafe while providing a convenient and reliable service to your customers.
Corporate catering will always be necessary because there are so many large corporations with massive staff numbers. So, corporate catering is a lucrative aspect to add to your business's line of trade. Catering on the side while running your café is hard work, but it will be an excellent way to tap into a new market and grow your business.
Upgrade Your Electrical Wiring
The electrical work in your facility is important for safety and to prevent potential accidents. If you're wondering about how to open a café with no experience, consider safety aspects like the electrical work of the building. You can hire a trusted local electrical contractor to come and assess the building's wiring and connections. Professionals have an eye for detail and the experience and expertise to recognize concerns and tackle problems.
Faulty electrical work and wiring can lead to serious consequences and can cost a lot of money. Bad electrical connections can cause the main supply to damage equipment and cut out electricity at any given time. Having all the electrical work checked before you open your doors is paramount.
Get New Windows
Windows are an essential part of any cafe. They can provide a great source of natural light and ventilation, creating an inviting atmosphere that appeals to customers. Not only that, but they can also serve as the perfect backdrop for the interior design of your cafe. They are a great way to add a unique touch that makes your cafe stand out from the rest.
When it comes to choosing windows for your cafe, there are several things to consider. For example, the style of the window should match the overall aesthetic of your café. For instance, installing vintage-style windows wouldn't work with modern design or minimalistic lines and clean finishes. If the window faces a busy street, you may want to choose a design that will reduce sound levels, such as double glazing.
Another thing to consider for your window selection is the climate in the area where your new café is located. In warm climates, you want to ensure that you install a coating on the window to help block out the UV and heat from getting into your shop. You can get quality window replacement in your area to assist in installing and replacing windows where required.
Have Your Safety Features Inspected
Having safety features for your cafe premises inspected is a must for all cafe owners. One of the things that cannot be compromised when looking at how to open a café with no experience is the safety aspect. Stores are usually high targets because they make money. If your café is located in an area that is known for crime, then amping up the security is crucial.
Regular inspections should be scheduled to ensure that all safety features are up to code and in good working order. The safety features that should be inspected include fire extinguishers, smoke detectors, fire exits, fire alarm systems, and emergency lighting. Fire sprinkler inspection should not go unchecked because these are the very features that can help slow down the spread of a fire in a building. Also, connect the premises to a security company to ensure that if there is an incident, they can come out to assist. By inspecting these safety features regularly, cafe owners can ensure that their cafe premises are safe for their customers and employees.
Use Marketing to Your Advantage
As a café owner, it's important to market your business with a focus on the unique experience that you offer customers. Whether you offer specialty coffee drinks, homemade pastries, or a mix of cuisines, you'll want to highlight what makes your cafe stand out from the rest. Start with an engaging website that showcases what your shop has to offer, and add some beautiful photos of your space. Using a quality camera can help you achieve this. Still, if you can afford to hire a professional photographer, invest in this, as the images are another powerful aspect of your website. Build your social media presence by sharing photos, videos, and stories that capture the atmosphere of your cafe and create special offers to draw in customers.
You can also create partnerships with nearby businesses, such as a local gym or bookstore, to increase the visibility of your cafe. In addition, consider hosting special events such as live music, open mic nights, or workshops to draw in customers from various backgrounds. By investing in creative marketing strategies and engaging with your community, you can make your cafe a go-to destination for locals and visitors alike.
Go Ahead and Take That Bold Step
Now that you have these tools and ideas, you too can take the bold step as you know how to open a café with no experience. It takes hard work and lots of patience to succeed and be renowned in your area for your amazing café with its tasty menu. Still, all the hard work is worthwhile in the end when the business is successful.