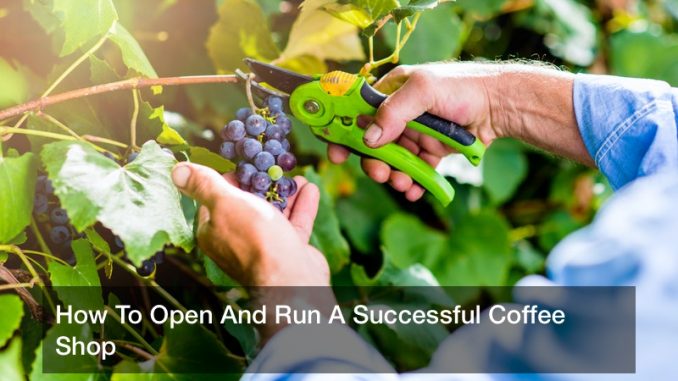 Do you enter a coffee shop and immediately get taken by the smell of coffee beans? Are you a person who doesn't feel right in the morning with a cup of java? Are you someone who swears by a particular coffee brand or blend and frequents a local coffee shop for your cup of joe?

If you said yes to any of those, you're one of scores of Americans who love coffee. And boy do Americans love their coffee—like a lot. Forty-six percent of American workers say coffee helps them stay productive at work and more than half of Americans older than 18 drink coffee every day. In fact, the average American coffee drinker has 3.1 cups per day.


If you're passionate about coffee, one way you can share that passion is by opening a coffee shop. Heck, if you're someone who stops in a local shop every day, you might have thought to yourself about how cool it would be to work in a place of coffee beans and brews. Coffee shops to north of $40 billion a year in business and opening up a coffee shop, particularly in a small town could be a gateway to business success.

There are many positive things that opening a coffee shop can offer you as a business owner:
You can have creative freedom over the design of the place, the menu, the coffee cups, the coffee beans, literally everything.
You'll have a great chance to make some money if you've got a solid business plan.
You can make a difference in your community by offering a place for people to stop by in the morning for a boost or a spot where they can just come to clear their heads during a busy day at work.
You can share your passion about all things coffee with people who love the stuff as much as you do.
Opening a coffee shop can be a great business venture, but what exactly does it take to be successful? Whether you're opening a shop in a busy city or a small town, it's important to recognize your most important business concerns:
Scheduling
Competition
Supply costs
Reliability of employees
Business growth
By mastering those concerns, you can turn a budding business into the place to be in town. If you're going to open a coffee shop, here are some tips to master the concerns listed above:
Use automatic reordering: By getting a handle on your inventory, you'll know how much you use in a given time and will therefore be able to reorder supplies much faster. That means you need to take stock of everything from the coffee beans to the ground coffee to the coffee cups to the straws to the sugar to the food and figure out how much you use. By getting all that in order, you'll able to make smarter decisions with your money.
Invest in the experience: If you're in a big city, you know that people can get coffee from a lot of places. Figure out what you can offer a customer that they can't get anywhere else. Maybe it's your variety of flavors; maybe it's the experience. Whatever it is you can offer, maximize it so that people will be drawn to your business.
Use technology: Any business worth its salt these days uses technology for its benefit. For coffee shops, a point of sale (POS) system will help you keep track of your store inventory and the orders taken among other things. This will help keep things in order and help reduce theft and error.
Be flexible with employees: When it comes to employees, make things easy for them by streamlining scheduling and allowing them to easily swap shifts if necessary. You can also create a training program with clear objectives that allows them to learn and job shadow.
Market: You can get word of your business and its deals and specials out quickly by automating messages on various social media platforms.

When it comes to opening a coffee shop, the sky is the limit. Armed with a good business plan, plenty of passion and loads of creativity, you can turn your average coffee shop into the hot spot to be in your town.