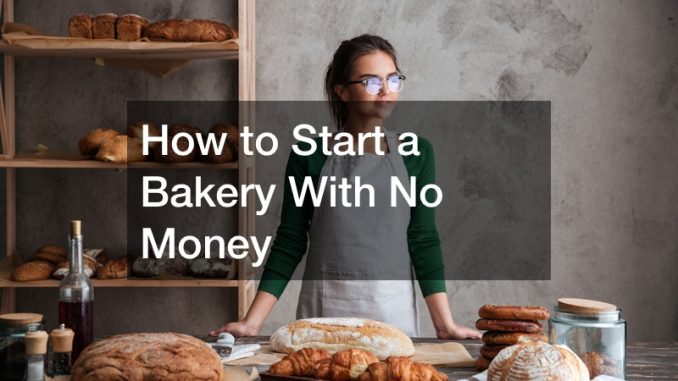 Opening a bakery has long been your dream, but with no substantial starting capital to work with, the idea may seem more like a fantasy. Still, you shouldn't give up on that dream just yet. There are creative ways to raise funds and obtain the equipment you need for that endeavor. Are you wondering how to start a bakery with no money? The suggestions in this article should help you come up with some great ideas.
Host an Opening Celebration
Although you don't have the money needed to conduct daily bakery operations, you may still have enough supplies to whip up some of your best pastries and baked goods. If that's the case, you should consider hosting an event. Call it the soft launch of your new bakery, and treat it like a big deal. You should also think of that event as one of the answers to the question of how to start a bakery with no money.
How should you go about raising funds at an opening celebration? You can start making money by selling some of your baked goods at that event. Give some free samples to pique the interest of your guests, then present them with an opportunity to take those treats home. Once the first few sales come in, more of your guests will likely take an interest and make their purchases.
You should also invite known investors in your area and offer them samples of your creations. Serve the treats you like the most to make the best impression on them. Don't forget to mention that you are open to investors because they may hesitate to approach you otherwise.
The opening celebration is also an excellent opportunity to collaborate with other small businesses. Ask if they're interested in sponsoring your celebration. Sell them on the chance to reach a new demographic of potential customers. Even two or three sponsorships can turn that celebration into a resounding success.
Get Dining Furniture
Even if you don't intend to have a guest dining area in your bakery, you still need furniture to fill it out. The absence of furniture can make your bakery feel less welcoming. Guests may enter, and you're your bakery immediately because of that.
Responding to the question of how to start a bakery with no money requires figuring out that furniture conundrum. This is not the time to use your limited resources. After all, there are ways to get furniture that don't require a significant expenditure.
Start by talking to any of your friends and family who may be trying to get rid of furniture. Check out the pieces they're looking to discard and see if you can repurpose them for your bakery. Using a little bit of creativity can turn those old pieces into valuable assets.
You should also search places like Facebook Marketplace and Craigslist for furniture listings online. Some folks in your neighborhood may be offloading chairs and round tables to any willing takers. Act quickly to ensure you get the best pieces available.
Decorate Your Space
The next item on our How to Start a Bakery with No Money to-do list should focus on decorating your available space. Decorating your bakery with new furniture will help improve its look and feel. Your improved bakery décor can bring in more customers.
Changing the appearance of your bakery doesn't have to cost a fortune. Begin by evaluating your current layout and consider moving things around to change the dynamics of your bakery. Take advantage of features already present in your bakery while changing its layout. For example, you can move couches next to your windows so diners can enjoy natural lighting while savoring your treats.
You can also take decorative items from your home and move them to your bakery. Paintings you can hang on the wall are particularly useful. They can cover blank spaces and introduce much-needed visual contrast.
If you have money, consider using it to refresh your bakery's paint job. A fresh coat of paint can work wonders on that space. A new coat of rose paint can make your bakery more inviting, while earthy tones can accentuate the appeal of your baked goods.
Purchase Safety Equipment
We're trying to save as much money as possible while putting together this guide on how to start a bakery with no money. Still, there are some purchases you cannot avoid. Those purchases include safety equipment for your bakery.
Go online and search for a fire extinguisher sales and service. Fire extinguishers are must-have items in any cooking space. Look for a good deal when shopping for a fire extinguisher, but be wary of those sold for absurdly low prices. Those fire extinguishers may have defects that could make them dangerous to use.
Floor mats are also essential for bakery safety. Substances like butter, oil, and shortening can make floors slippery. Lay down anti-slip floor mats to ensure you and your fellow bakers don't have any accidents. The anti-fatigue floor mats that prevent slipping are even better because they can keep you comfortable in the kitchen.
Redesign Your Kitchen
Our focus in this article is answering the question of how to start a bakery with no money, and that seemingly takes the possibility of remodeling off the table. While a major redesign will cost a lot of money, not all kitchen remodeling ideas have to be expensive. We have some cost-effective remodeling suggestions that could make a lot of sense for your bakery.
Focus on your available countertops first and check if any accessories or fixtures are getting in the way. You need to open up your countertops because baking takes up a lot of space. Investing in new quartz countertops is a terrific idea if you have the money because they are durable and heat-resistant. If installing new countertops is too expensive, you can settle for clearing them out.
Your bakery kitchen redesign should also involve making room for your appliances. Create space for your mixers and ovens, and make sure they remain easily accessible. Retaining accessibility is critical, and not just for baking purposes. Those areas should also remain open so they are easier to clean.
Spending money on built-in fixtures is also a good idea. Built-in shelves give you more room to prep ingredients. Meanwhile, built-in stools can help you more effectively utilize the space in your kitchen.
Maintain Your HVAC
Have you ever set foot in a bakery without a functioning HVAC system? Truthfully, those types of bakeries are very uncomfortable. Your customers may be less inclined to wait for their baked goods if the temperatures are soaring inside your bakery.
On top of that, a poorly maintained HVAC system can also impact your baking equipment. Your ovens may not work as efficiently because of the heat circulating throughout your bakery. Even your employees may complain about those poor working conditions.
No guide on how to start a bakery with no money would be complete if it didn't address the HVAC issue. You can start working on that issue by searching for " AC maintenance near me" on your smartphone. Search for the local businesses that offer the best rates and ask if they currently have any promotional offers.
Sticking to one HVAC maintenance service can also help you save money long-term. The service in question may be more inclined to offer discounts if you become a permanent customer. They may even offer great deals on insulation and other HVAC-related services that can make your bakery more comfortable.
Inspect Your Exterior
The exterior décor of any establishment plays a significant role in attracting customers. Keep that in mind while managing your bakery. Failing to improve or maintain your bakery's exterior could be why your business fails.
So, how do you manage those exterior elements if you're already trying to figure out how to start a bakery with no money? The answer involves diligent maintenance. Always take the time to clean your windows, doors, and walls so they remain presentable to any guests dropping by.
Remember to look up while cleaning. Your gutters may overflow and cause stains to appear on your bakery's walls. Hire gutter companies to clean those elements of your exterior and prevent them from causing additional problems.
Repainting your bakery is another idea well worth considering. You can experiment with more colors by refreshing your bakery's exterior color scheme. Just make sure the new paint job meshes well with your surroundings because you don't want your establishment to stick out like a sore thumb.
Install Storage
Storage space is incredibly valuable inside any commercial bakery. You need compartments available for ingredients and baking equipment. Ideally, these compartments should also be installed in convenient locations so they don't interfere with your work. Open up the necessary storage space by partnering with a kitchen cabinet company.
They can improve your drawers by adding smaller compartments that organize your baking equipment. The smaller compartments can hold items like your measuring spoons. You can also install lights inside your storage cabinets so items are easier to find.
Since we are discussing how to start a bakery with no money, you're probably looking for more affordable alternatives than the options we've highlighted in this section. In that case, you should install some shelves. Place shelves above your kitchen sink and prep areas to make cleaning and cooking more convenient.
You may not necessarily need to install new storage compartments. There may be spaces inside your kitchen that are currently going to waste. Clean up those spaces and use them to store your mixing bowls and sheet pans.
Find a Business Sign
Even if your focus is on how to start a bakery with no money, you shouldn't pass on advertising expenditures. You need advertisements to draw people to your new bakery. Your bakery can easily get lost in the shuffle without those advertising signs.
You can save money on your business signs by following a few key tips. Start by evaluating the signage businesses in your area and look for the ones that consistently receive positive reviews. Reach out to the local sign company that has garnered the most positive praise from the community and check out the discounts they offer.
You can also save money on your new business sign by making specific design choices. Try to develop a design for your new sign that makes a strong impression while remaining structurally simple. The signage company will charge less if you feature a simple design.
The material choice for your new bakery sign will also significantly impact how much it ultimately costs. Vinyl is a terrific choice for business signage because it's affordable and durable. Keeping your bakery signage on the small side is also recommended. Compensate for your sign's size by putting it in a highly visible spot.
Invest in New Windows
Last but not least, you should look into window replacement if you want to improve your new bakery. Now, it may seem like replacing your windows doesn't work with a guide that focuses on how to start a bakery with no money. We're here to show you that getting new windows is still possible, even if you're working with a limited budget.
Opt for fixed windows if you're trying to keep your expenses under control. Fixed windows may not do much to make your bakery more comfortable, but they can be aesthetic additions. Install the fixed windows near your bakery's front door so you can present your baked goods to people walking by.
Once again, using vinyl can help reduce your expenses. Vinyl frames can protect your new windows without compromising their appearance. The aforementioned material is also useful for soundproofing. It will help create a pleasant dining environment for your guests.
Don't let your dream of owning and running a bakery fall by the wayside because you have a limited budget. You can still open the bakery you've always wanted by following the tips detailed in this article. Are you looking for more financial advice? Visit our website today and pick up more tips that will help keep your finances and bakery in good shape!