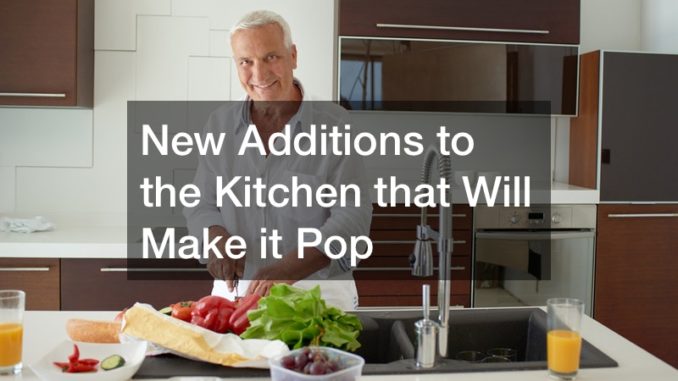 Your kitchen is one of the focal points of your home, and you want it to make a statement. By making some simple changes to your kitchen, you can not only increase the value of your home but also create a space that you enjoy being in. When adding additions to your kitchen, you don't have to break the bank. Many additions can be done on your own with materials and tools that you can find at the local building supply store.
You may be surprised just how big of a difference that even small improvements can make to your kitchen. You can make your kitchen more catered to fit your lifestyle, depending on if you are looking to entertain or if you simply want an area that feels more open and spacious. There are a few additions that you can make to your kitchen that can change the entire feel of the space without having to remodel your entire kitchen. So let's take a look at what you can add to your kitchen to change the overall feel of it.
Give Your Cabinets New Life
Your kitchen cabinets have more of an impact on the overall feeling of your kitchen than you may think. Outdated or dark cabinets can make your kitchen feel smaller than it is. Alternatively, if you are working with a small kitchen space, changing the color or style of the cabinets can give the impression that the space is bigger than it is.
If you do not want to put the time and money into getting all new cabinets, you can update your current cabinets to make them look new. It is amazing what a coat of paint can do. By either painting your full kitchen cabinets or adding paint simply on the cabinet doors, you can create a pop of color.
Another way to change the feel of your kitchen with your cabinets is through the addition of glass doors to your kitchen cabinets. You can find a variety of different designs that you can get at an affordable price from a wholesale glass supply store. Glass cabinets are a great way to give your kitchen a more open and inviting feeling.
Change Up Your Countertops
Besides cabinets, countertops are one of the areas in your kitchen that draw the most attention. One of the most popular countertop styles for homeowners currently is either granite kitchen countertops or manufactured quartz countertops. One of the major benefits of selecting either of these materials for your countertops is that they are versatile and timeless. You can create either a modern kitchen or a kitchen that has a very traditional feel. While installing countertops can seem like a daunting process, when selecting your countertops you can have a quartz countertop installation service to install them for you.
Bring in More Light
When it comes to countertops with your kitchen windows, there are a few ways that you can make a dramatic impression to make your kitchen stand out. If you have higher windows or no windows above your countertops at all, you can easily add more natural light and the illusion of space by adding a window that is flush with your countertops. Through the process of wall sawing, you can create an extended window. This process is relatively inexpensive as you can get the glass through a wholesale glass supply store.
If you currently have a window that is flush with your countertop and wants to make a change, such as adding a backsplash, you can change the height of your window by putting a window board up. You can also partially board up your windows to add a window sill, which can be a great addition if you would like to have some extra space above your kitchen sink.
A dramatic statement piece to add more light to your kitchen is by using a ceiling dome kit. Depending on the style, one of your home's kitchen ceiling domes can either use natural light or can have artificial light. It is not only a striking feature, but it also adds to the feeling that you are in a larger space due to the extended ceiling space. A ceiling dome not only adds more light to your kitchen but also has the additional benefit of providing greater airflow throughout the space.
If you have roofers, installing a skylight can be a great way to add in natural light, that also makes for a great statement. If you want your kitchen to stand out, adding dramatic flare such as a skylight can set you apart.
Changing Your Flooring
Flooring in kitchens is another area that is frequently outdated. Simply by adding new flooring, you can breathe new life into your kitchen. One of the most popular materials for kitchen flooring currently is linoleum. Now, linoleum has come a long way from what may first come to mind when you hear the term. There are now several options to choose from, including options that resemble wood flooring. The great part about linoleum is that it is inexpensive and easy to install yourself. Simply by changing the flooring, you can create a more modern space. Kitchen flooring is one of those high-traffic areas that takes a regular beating. Over time, your kitchen floors will not only look outdated but also damaged. Replacing your kitchen flooring is an easy way to add either a pop of color or a subtle modern look.
Add Some Air Flow
One of the first things that you want to do when you have a brand new kitchen is experiment with some new recipes. Recipes that use thickeners such as soy lecithin are popular right now. When making sauces it can be easy to burn them, causing you to have a smoky kitchen. Adding a vent hood can provide extra airflow to your kitchen. One of the easiest ways to have a vent hood installed, if your kitchen currently isn't outfitted with one, is to hire a roofer to install a system on your roof.
Another way to increase airflow to your kitchen is to add an air conditioning system. Adding an air conditioning system can not only make your kitchen more enjoyable to cook in during the summer months when standing by a hot stove can be uncomfortable. The benefit of adding an air conditioning system to your kitchen is that an increased and controlled airflow can make smells from new recipes (including the occasional cooking mishap) not linger after your meal is done. Adding air conditoners will increase the value of your home as well.
While it used to be commonplace to have ceiling fans in your kitchens, this has been replaced by air conditioning systems. It's a great way to have fresh air circulated throughout your kitchen, rather than circulating stale air that is already heavy with cooking smells. With the use of air conditioners, you also eliminate the need to clean a ceiling fan and don't end up with dust in your food.
A Splash of Color
Paint is one of the easiest and inexpensive ways to make your kitchen pop. One of the most popular styles is to add an accent wall. Having neutral tones in your kitchen and adding one wall that is a vibrant and deep color draws attention and adds color without making the entire room seem small. An accent wall is something that you can easily change to fit the seasons, or if you've grown tired of the color. It's considerably less work to repaint one wall, rather than having to have to do the whole space.
Standing Apart From the Crowd
You can drastically change your kitchen with a few additions and changes. Whether it is a major or minor addition, you can make your kitchen feel brand new without having to completely start over from square one. Kitchen remodels are one of the most popular remodels to undergo. They not only increase the value of your home but also your level of enjoyment that you experience while using your kitchen.