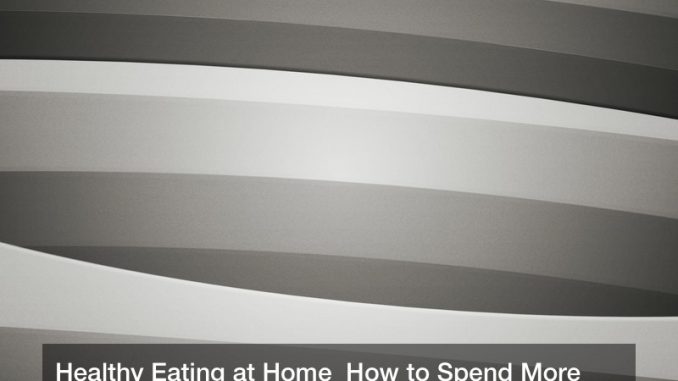 Did you know that only 28% of all people have easy access to healthy food? Since you're reading this, you're probably one of the lucky ones. And if you're like most people in first-world countries, you might even take things like clean water and local grocery stores for granted.
But in spite of having healthy food available, chances are you feel like you could be doing more to improve your health. If you have a busy lifestyle, healthy eating at home may be an exception rather than the rule, as fast food restaurants and convenience stores offer much quicker meals at affordable prices. Those costs do add up, however, especially if you count the cost to your health and wellbeing. When it comes to your diet, no amount of convenience really replaces healthy eating at home.
Fortunately, there are ways you can encourage yourself to spend more time in the kitchen cooking healthy meals. You really don't need that much extra time for healthy eating at home: as long as you can spare a few hours each week, you can cook your own healthy meals.
How to Encourage Healthy Eating at Home
Just because you have the means and the time doesn't mean you'll use it. Almost every home in America has a decent-sized kitchen and sits in close proximity to a supermarket, but not everyone feels like they have the time or energy to cook. If you need a little encouragement for healthy eating at home, keep reading for our top ideas.
Get Creative With Your Cooking
People often feel like they're wasting time in the kitchen when they try to cook from scratch. What they often overlook is that, not only are homemade meals better for you than fast food or frozen dinners, but you also save a lot of money by cooking at home. Even if you go to the cheapest restaurant in your area, the markup on food products are ridiculously high when you eat out. Cooking at home is good for you, and for your bank account.
But that doesn't necessarily make cooking any less tedious. If you find yourself getting bored in the kitchen, maybe it's time to spice things up with some lesser-known dishes?
Trying foreign foods, such as traditional Italian foods, can be a really good way to make cooking more exciting. There's an entire world of stories and cultures behind each culinary style, and these can be great fun to learn about while practicing differing kinds of cuisine. Thanks to recipe sharing websites and tutorials on YouTube, you don't have to go far in search of inspiration and instruction.
If trying weird recipes from around the world isn't exactly up your alley, why not experiment with new ingredients or spices? The next time you're at your local grocery store, look around for vegetables, seasonings, or cuts of meat that you aren't familiar with. When you find ones that seem interesting, you can even use your phone to look up recipes involving those ingredients, right there in the store.
Finding new recipes to try can be a little intimidating, especially if you're new to cooking. That tutorial for really good sushi might be enticing, but if it's out of your league, you might want to try making something simpler or just pick up sushi from a really good restaurant. Fortunately, most recipes you find will give an indication of their difficulty level. You can even find blog posts and entire websites dedicated to easy, beginner-friendly recipes.
The next time you find yourself in a rut when it comes to cooking, do some culinary exploration to rekindle your interest in the kitchen.
Renovate or Remodel Your Kitchen
Have you ever noticed that, after cleaning or refurbishing the bedroom or office, you suddenly want to spend more time there? We naturally feel better in clean, well-organized spaces, and we're also drawn to areas that have been recently changed in some way. If you need inspiration to start a new lifestyle of healthy eating at home, kitchen remodeling could be just what you're looking for.
If you decide to go the full-remodel route, you'll want to do a lot of thinking ahead before you call the construction company. Start by making a list of everything you'd like to have in your perfect kitchen. Even if you think you can't afford something or don't have enough space for it, go ahead and write it down anyway — this is just a list of everything you'd like to have, and you'll narrow it down later. Besides, you can often add nice features at a fraction of the expected cost, or discover ways to install them without using a lot of space.
Once you've made a list of all the "nice to have" upgrades, start thinking about what renovations are reasonable given your space and financial constraints. If you want an island in your new kitchen, it's important that you have enough room to allow at least 36 inches of space all around it. Think about the layout of your new kitchen, and visualize yourself working in it as you see it in your mind's eye. Try to see things like the kitchen sink, stove, and dishwasher as being in the same places they're in now, as moving plumbing and gas fixtures is costly and time-consuming. While you're at it, think about what kinds of paint colors, decor, and lighting you'll need to feel at home.
Whether you want to replace the entire kitchen or simply install a new marble countertop, the next step is to talk to an expert. An interior designer or contractor who specializes in kitchens can tell you what ideas make sense for your home and give you an idea of what things will cost. From there, they can also help you make the purchases and hire the labor you need to get the job done. They may even do it on your behalf. Keep in mind, however, that you'll need to have a backup planned while you're waiting for your new kitchen to be finished. You might have a nearby relative or close friend who will let you use their kitchen a couple of times per week to make meals. If not, you might need to set up a small refrigerator, portable stove, and other basic necessities somewhere else in the house. This will be especially helpful if there are delays in the remodeling process.
Maybe a full remodel isn't in your budget right now, but there might be repairs that you've been putting off. Especially if it's been a while since you've done any serious cooking, there could be some maintenance issues that have gone ignored for a long time. While broken tile or clogged pipes might not be visible above the surface, they can make things inconvenient when you try to get any cooking done. Kitchen plumbing repair could be all you need to feel comfortable in the kitchen again.
Whether you opt for basic structural repairs or a full remodel with marble flooring and French doors, showing your kitchen some tender loving care is perhaps the best way to motivate yourself to spend more time in it.
Grow Your Own Vegetables
One way to spark interest an interest in healthy eating at home is to grow some of your own produce. Taking ownership over your food source like this can give you a sense of pride in your diet and your cooking. Not only that, but gardening itself is another engaging activity that's great for your health and wellbeing.
If you have the yard space, the time, and the interest, gardening can become an entire hobby unto itself, reshaping your entire backyard and adding a real asset to your family's home. There are lots of tools and equipment available to make the job easier and more efficient, from small tillers to residential garden irrigation. And even if a full-sized garden isn't on your priority list at the moment, you can still grow beautiful, delicious vegetables in flower pots and on window sills.
If a backyard garden sounds like just the sort of new hobby you need to occupy your time, you will need to do a little research before you start. First of all, it's necessary to have a wide-open space somewhere in your yard to place a garden. You don't need a lot of ground space since a large garden would probably overwhelm you anyway when you're just starting out. But it is important for there to be plenty of sunlight streaming onto the area, for at least part of the day. If your entire yard is overshadowed by trees or buildings for more than half the length of any given day, your plants may not get enough sunlight to grow well. On that note, you might be able to have a few tree branches removed in order to let in more sun. If it's been a long time since a tree removal service has visited your yard, you may actually have some hazardous trees hanging dangerously over your house or lawn, just waiting to fall and hurt someone. Now would be a good time to deal with any such branches or trees.
You may need to get permission from your landlord or homeowner association before you attempt any outdoor renovations. If the restrictions in your neighborhood are too strict to allow for gardening, you can always have a small potted garden. Some vegetables that grow well in pots or containers include tomatoes, peas, potatoes, squash, lettuce and salad greens, hot and sweet peppers, and cucumbers.
Nothing inspires healthy eating at home quite as much as growing your own produce. Then you can not only cook your own meals from scratch, but you can raise some of your own ingredients as well.
Invite Friends Over for Dinner
Another way to motivate yourself to spend more time in the kitchen is by hosting a dinner party for some friends. Looking forward to a pre-planned dinner date can inspire you to practice cooking new recipes as you prepare for entertaining your guests, leading to more healthy eating at home.
When you decide to host a dinner party, the first thing to remember is not to stretch yourself too much. A simple meal that's well-thought-out and properly prepared will go a lot further than a fancy meal that didn't turn out quite right. If you're a bit of a cooking novice, plan a dinner menu with delicious recipes that you're comfortable with making, and don't try too hard to impress.
That doesn't mean your dinner party menu has to be boring, however. You can make the event memorable and creative without tasking yourself by making complex dishes. You might start by deciding on a theme to follow for the entire party. If you've been practicing making foreign dishes, you might host a dinner with Italian or Mexican food, complete with music and simple decor to match. You will also need to choose between hosting a casual or elegant dinner, although keeping it casual would be less intimidating if it's your first time.
Next thing about the setting of the dinner you'll host. Will it be a buffet-style dinner, with everything kept warm in the kitchen for people to serve themselves from? Or will you have everything on the table, and pass dishes around? If you're going to a buffet dinner, keep in mind that the style of food you serve should define the seating arrangements. Having everyone seated on the couch or on lawn chairs is relaxed, but hardly comfortable for foods like steaks that you have to cut in order to eat. If your guests won't be sitting at a table, don't serve foods that will require more than one utensil—probably a fork—to eat easily.
When you decide to host a dinner party to inspire healthy eating at home, remember to ask your guests if they have any dietary restrictions. Few things are more awkward than preparing Thai peanut chicken, only to discover that your friend has a peanut allergy (that said, barring any allergies, peanut chicken is a wonderful recipe to try)!
Finally you'll be ready to plan the menu. Generally, a dinner party menu will include an appetizer or two, a main dish, two side dishes, a type of bread, a dessert, and sometimes a light soup or salad for the start of the meal. Remember to prepare a balanced variety of foods, so that all the major food groups are represented in your meal. If you're feeling especially creative, you can try to vary the colors of the different dishes you're serving as well. Perhaps most importantly, try to plan a meal that you can prepare ahead of time, so you aren't rushing everything through the oven at the exact same time as your guests arrive.
Inviting friends over for dinner is a great way to motivate yourself to practice healthy cooking. It's also a wonderful way to bond with friends.
And there you have it: our top tips for inspiring healthy eating at home. Hopefully, this article has motivated you to prioritize your cooking and your health.