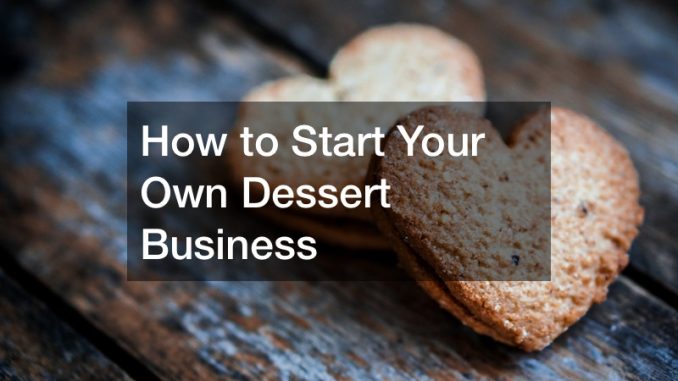 From malva pudding and banoffee pie to frozen yogurt, chocolate truffles, and decadent cakes, everyone has a sweet tooth, and most people enjoy desserts. Having a cake shop or some sweet-selling business is a lucrative industry. That said, in this article, we're tackling ways on how to start your own dessert business. There are so many considerations to consider, but one of the most important things is having a clear business plan. Your business plan will tell you where you're headed in a few years from starting off. Starting your own business can be a challenging endeavor. It isn't enough to be an excellent baker or have recipes that excite you. You have to know how to run a business to stay afloat in a competitive market. If you're not sure how to get started, keep reading to learn some excellent tips.
The Pros and Cons
All business ventures have pros and cons, and it's no different when it comes to a dessert business. So, if you consider owning one, it's best to know the good and bad.
What Are the Benefits of Having Your Own Dessert Business?
You want to know how to start your own business, sure, but it's great to know that there are many advantages. The following are just some of the pros of having a dessert or sweet shop.
You don't need an official storefront – If you have a dessert business, there are no rules compelling you to have a physical storefront. You can sell your goods online too. This cuts overheads in a big way and makes it a bit simpler on cash flow.
Start small – You don't have to have a large-scale business to run your cake or sweet shop. When you think about how to start your own dessert business, we're sure that starting small or having no premises has come to mind, yet those two are true for these types of companies.
Supply specialized products and be highly creative – Have plenty of room for creativity. You should be able to redesign and make special orders for customers and large quantities of items upon request.
As for creativity, you must always come up with new and exciting desserts to stand out from your competition. Know what your customers want and create a taste experience for them. Creativity can be in new tastes, designs, and presentations. Either way, you should ensure that when your customers think about desserts, they think about your dessert business. Thinking about you sets the tone for a loyal customer base, which is critical for any company.
What Are the Disadvantages of a Dessert Shop?
If you own or are looking for ways on how to start your own dessert business, then there are some disadvantages to consider too.
The competition is rife — Perhaps you have always wanted to know how to start your own dessert business, and you feel excited and all fired up to do it. However, the truth remains clear, and you must face the fact that this is a bustling and competitive industry. You will constantly have to be better than the others to be considered by current and potential customers.
You may only see smaller profit margins – Compared to other businesses, in a dessert shop, it's not unusual to see small profit margins. All the hard work, time, and effort put in every day to kick off the business seems almost unfair after assessing the profits. Still, this is a disadvantage that cake shop owners and dessert stores face.
Compliance and regulation are extensive – When considering how to start your own dessert business, you must consider the multiple regulation factors in place. The thing with these types of businesses is that it has to do with food consumption, so safety and health are heightened. If compliance is not 100 percent, critical fines, the owner could face fines and other issues that might damage the business's reputation.
You can have higher losses – When you consider the expense of ingredients, it's easy to realize that it is expensive, and thus naturally, you need to increase the price tag to make up for some profit. Still, if you don't sell the baked goods the same day you made them, you might need to reduce the price for the next day since it doesn't have a long shelf-life compared to other consumables.
Now that you have some pros and cons, it's time to focus on other aspects when looking at how to start your own dessert business. The following section will cover some factors to consider to get your business up and running.
Repair Your Parking Lot
Let's say you've found a venue and you're able to hire a property with parking for your customers, then the parking also plays a role. If you have an establishment that allows customers to eat in, then they would need a place to safely park their vehicle and be able to have their coffee and cake in peace without worrying about their car outside. You may have to repair the asphalt paving so that your customers have a smooth and easy parking experience. Whether or not it is shaded parking is a story for a larger budget. You can hire a parking lot line striping company to help you create parking spaces, and if you can afford a net or mesh to set up a carport, then you may do so too. Or you can go with a half-shaded and half-open parking lot set up at your dessert place. The lines are important so people can clearly see where they can park.
Have Lighting Installed
Lighting is important to a place's appearance. If you are considering how to open your own dessert business, lighting is one of the aspects to add to the building. Don't forget that your cakes and pastries on display need a good dose of lighting, too, as it helps customers see the delicious treats in their fullness. Lighting for the display and lighting in the shop is essential. If you are open till evening, lighting in the parking would also be crucial in this decision. Many commercial electrical services are prepared to assist you with all the lighting setup and installation.
Get New Windows
The windows are the 'sneak peek' into your shop. Having large display windows from the outside looking in is very important. Sometimes people go past a cake shop without the intention of buying, but they may spot something they love and cannot resist buying it. Clear visibility windows will help. You can also add a tint for the light to be comfortable inside with minimum heat carried through due to the UV rays. If your windows look old and outdated, get a window installations company to assist with quotations and then go with the ones with the best reputation and best your needs. Besides, getting more quotes can help you decide which one will suit your budget best. They will help you replace your windows from drab to wow!
Have Your Roof Fixed
A roof is an important part of any building. It helps secure the building's structural integrity while also blocking the elements from coming in. If you need a roofing repair services expert and advice or service. We encourage you to get them in. If your roof is not as bad and you just have to give it a good maintenance clean, this can work too. Since the roof has some curb appeal, you want potential customers to consider your store instead of going to someone else.
Update Your Bathroom
The cake or dessert shop needs to look great for the customers. For example, if they are drinking beverages and sitting, they may need the bathroom before they leave to journey on. A restroom is crucial in any establishment. Get the plumbing done for a bathroom installation, including toilets, dryers, and taps. Sometimes people just stop in for something to munch and freshen up before heading further on their long road trip. Consider having toilets for men and women, and if you can have more than one toilet installed, then have two done or one unisex bathroom.
Get Your AC Inspected
Air conditioning is vital for most establishments, and these days you can get low-energy or Energy STAR AC systems installed that will save you on electricity when you're using the system while simultaneously creating a comfortable atmosphere for your customers. It might be a scorcher of a day, and at least when your customers come in, they will have a lovely indoor place to relax and enjoy something sweet to eat. How to start your own dessert business requires you to have AC inspections done on a routine basis, and when you change the filter systems, you can enjoy cleaner air for yourself, your staff, and your customers coming through. Have an AC system installed if you didn't already, and if there is an existing system in place, get the AC inspected to see that everything is working properly.
Invest in a New Sign
Have a beautiful and visible sign made for your shop. It's one thing to have a shop, but it's another thing if customers can't see the sign where you are. It's almost part of marketing in a way, except it's the visibility from the road you need. Your customers should be able to see your dessert shop from the roadside and know where to find you. Have one made, and you can even consider having custom logos or slogans to help make it unique. You can work with professional commercial digital signs and specialists that will create a design based on what you want.
Improve Your Accessibility
Accessibility is always important when owning a business. Your business should be physically accessible from the roads and also for customers in wheelchairs. Having a wheelchair-friendly establishment is very important and this accommodates everyone. Some people have menus in multiple languages to accommodate and have something to keep the kids busy, like crayons and paper to doodle on. Commercial elevator service companies can help with installations and servicing existing elevators.
Renovate Your Kitchen
Is your kitchen and workspaces up to scratch for the work you're about to undertake? For instance, if you are doing all the baking and prep onsite, a workable kitchen is critical. Make sure you add upgrades that will help make it easier for you. The kitchen cabinet design that you might choose is contemporary or you can choose something traditional, whichever best suits the layout and theme of your business premises. You may also need to install cabinets that are convenient and aid in the storage of equipment and ingredients used.
Get the Appliances You Need
Make the kitchen work in favor of what you need to do. As a baker or dessert enthusiast starting a dessert business, it's important to have the necessary appliances to make it work. Electric baking and cooking appliances help cut the time for preparation and mixing dough and batter in half. Appliance dealers may have a variety of brands and tools to help make your job easier.
Work on the Marketing
Marketing is a critical part of any enterprise; one thing to consider when considering starting your own dessert business is focusing on digital marketing. Digital, as well as traditional marketing, will help bring customers through the door, which you need. You can hire a marketing company to help you get this done or you can also put some work in by advertising on social media platforms and in newspapers. Once people know your business and you make them happy, you can be sure that more and more people will hear as word-of-mouth spreads your reputation.
If you're reading this and you are someone who has often considered how to start your own dessert business, then you're not alone. If you have an eye for detail and a natural talent for baking, we hope this article is inspiring and helps you make that dream a reality.